Shapes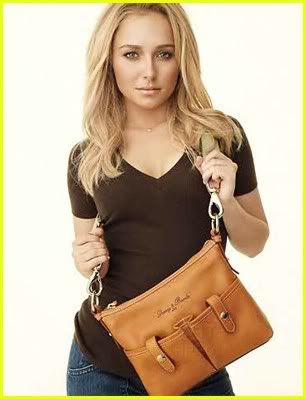 Try to choose a shape that is the opposite of your body type.
If you are tall and thin, look for a slouchy, rounded hobo handbag to
compliment your figure. If you're short and voluptuous, choose a handbag
that is tall and rectangular or long and sleek (like a clutch). In general,
the rounder your figure, the more structured your handbag should be.
That doesn't mean you have to carry a hard box around to counter-balance
your womanly shape.

Rectangular or square silhouettes in soft leathers or fabrics will do the trick.


Some popular shapes:


Tote: An open-top handbag with straps or handles.



Hobo handbag: A crescent- shaped shoulder handbag.



Duffle: Tall shoulder handbag, often with a wider opening on top.



Field handbag: A flap-top shoulder handbag with utility-type closure (buckles, snaps, etc).



Clutch: A small, hand-held handbag or a larger, geometric shape that is tucked under the arm.



Satchel: A large, hand-held handbag.



Hand baguette: Long and rounded shoulder handbag resembling the namesake bread.



Messenger: A large , soft shoulder handbag with long straps (often worn across the body).



Cigar box: A small, boxy, hard handbag.



Pouch: A soft, small handbag.



Kelly handbag: A classic Hermes style named after Grace Kelly; a large, structured handbag with distinctive hardware closure.


Scale



Photo refer to Modishblog

While the shape should oppose your body type for maximum flattery,
the size of the handbag should be in proportion to your figure.
For example, a shoulder handbag that ends around the hips will
play up your hip width. most women look great with a handbag that
hits mid-torso because it flatters the waist.
Top 5 Handbag Trends
If you are really into fashion, you'll feel lusting madly over a gorgeous new handbag each season. It is really fun, fresh handbag that will absolutely complete your wardrobe.



Clutch Handbag; A favorite in everything fro slim rectangles to antique-looking hand-held handbags.

Patent Handbag: Whether you go mirror smooth or funky with a bit of crinkle, patent is the best finish for handbags right now.

Mini Handbag:Stash a minimum amount of stuff in your tiny handbag and opt for a cross-body or hand-held style.

Metallic Handbag: They've been in and out for years, but metallic handbags are now hotter than ever.

Convertible Handbag: Wear it on your shoulder, toss on the crook of our elbow or hold it by your hands; this hand bag goes the distance in versatility.
Variety of Medium Size Silk Handbags
Variety of Medium Size Silk Handbags
Handbag for Women (Voting)
Handbag Blog Search
Designer Handbag