Christian Purses and Cosmetic Bags for Women


Redeemed Overnight Tote Bag
This vintage style bag is brown with a patchwork top design. This travel bag is large and roomy, so take it on your church retreats or for an overnight trip! This tote packs a powerful and and inspiratiing Bible verse and message
Message reads:
lovely by design

Ecclesiastes 3:11




Everything Beautiful Makeup Bag
This bag has purple plaid and floral print mixed design. The front has a pocket that says: wonderfully made.




Redeemed Bag and Toiletry Bag Set
Travel with these stylish bags that have a beautiful message of hope!
A fun and trendy gift idea for moms, daughters, sisters, and girlfriends!

Message reads:
lovely by design
Ecclesiastes 3:11
Women's Purses, Lunch Bags and Fashion Accessories
These bags "carry" a spiritual truth, the greatest of these is LOVE! For now there are faith, hope, and love. But of these three, the greatest is love. - 1 Corinthians 13:13


Christian Purse and Makeup Bag Set
This purse makes a lovely, meaningful gift for ladies of all ages!

Bible verse and message:
found & treasured
II Thessalonians 2:13




Christian Truly Blessed - Insulated Lunch Bag

Message on the bag:
truly blessed

Scripture inside bag:
From the fullness of His grace we have all received one blessing after another. John 1:16 NIV

Totes and Bags for Teens and Girls


Walk By Faith Tote Bag
A great bag for Christian teens or youth. This tote is black, with a center graphic of ladies shoes and teal carrying handles. It has a simple, but powerful, daily reminder that that reads:

Walk By Faith

II Corinthians 5:7 NKJV




Delight Yourself in the Lord Tote
This cloth bag is cream with a floral and butterfly graphic. This tote is made of oil cloth and easy to wipe clean, has a magnetic snap closure and a lined inside.
It gives an encouraging message for you to remember every day! Reads:

Delight yourself in the Lord and He will give you the desires of your heart.
Psalm 37:4 NIV




Hope Is in His Unfailing Love Tote
This bag has a picture of cute girl, sitting under a tree. It has more secure handles then some canvas bags and the oil cloth fabric makes it easy-to-clean.

Bible verse on the bag:

Hope is in His unfailing love.
Psalm 33:18 NIV
Kerusso Totes, Bags, Coin Purses and Wristlets
These Christian fashion accessories are by Kerusso, who is best known for their line of modern T-shirts. I have some cool totes, bags, coin purses and more. The accessories I chose have a mix of modern graphics, Crosses, inspirational messages and some have Scripture quotes on them. Feel free to add to this list and you can vote your favorite one up.
Canvas Tote Bags for School or Shopping


Sweet Gifts Pink Tote Bag
This cute tote is pink and has a cupcake graphic with this Bible verse:
God richly gives us everything to enjoy.
I Timothy 6:17.




Trust God Tote Bag
This tote has a picture of a cute girl on the front, holding a bunch of balloons. It can be used for church, work or shopping. It is made of durable canvas material and holds almost anything you want to take.

The front reads:
Just Trust God

Scripture verse included:
Guide me in your truth, and teach me, my God... I trust you all day long.

Psalm 25:5 NCV.


Christian Umbrella, Tote Bag and Mugs

This umbrella has a beautiful floral pattern and this Scripture quote:
I will bless the Lord
Psalm 103:2
Makes a a perfect gift for Mother's Day!




Bless the Lord Tote Bag
This pretty tote is part of the Bless the Lord, Good Things collection. With a pretty floral print and a light teal color, Psalm 103:2, this tote is perfect to carrying at Spring time Psalm 103:2
There is a special price when you get the tote and matching umbrella!




Good Things Christian Coffee Mug
This coffee mug matches the above umbrella and has this Bible verse on it that reads:
He fills my life with good things!
Psalm 103:5





Good Things - Encouragement Booklet
This booklet will bless and encourage a woman in your life! More then a card, this booklet has 24 pages of blessings and Bible verses. Get 3 booklets per order. Sample page sentiment:

Enjoy the thought of being absolutely one-of-a-kind
everything about you divinely ordered and wonderfully so.

Scripture quote:
I will praise You, for I am fearfully and wonderfully made;
Marvelous are Your works, And that my soul knows very well. Psalm 139:14 NKJV
Zebra and Fun Print Scripture and Icon Bags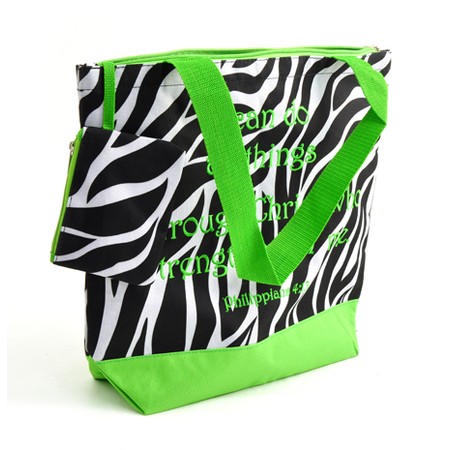 I Can Do all Things - Zebra Print Tote
This zebra print with lime green trim, lime green handles, and lime green . Lined polyester, with double web handles. Has an attached matching coin purse! The embroidered Scripture is " I can do all things through Christ who strengtheneth me. Philippians 4:13".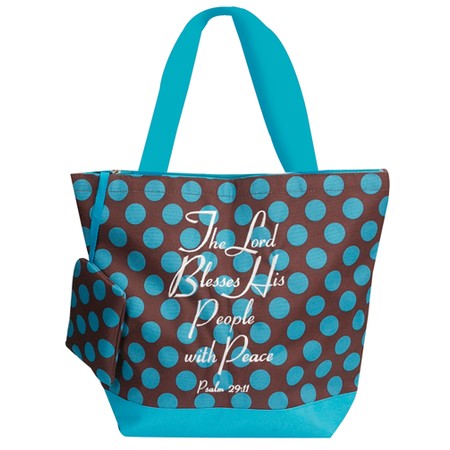 The Lord Blesses His People Tote
This vinyl tote with attached matching purse and embroidered Bible verse trim screams trendy! Fully fabric lined with 10" drop, double web handles; flat base. Small purse is ideal for keys, cellphone, change, and essentials. Brown with bold turquoise polka dots; The Lord blesses His people with peace. Psalm 29:11
Eco, Shopping Bags That Show Your Faith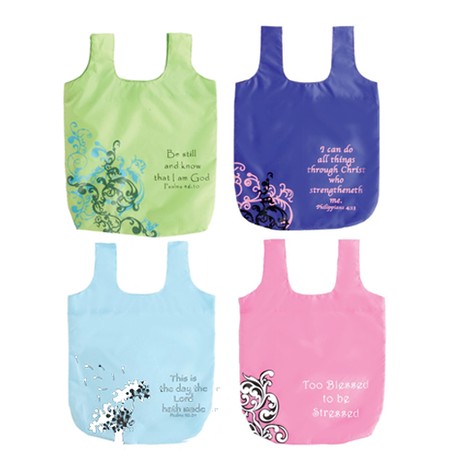 Reusable Shoppers Totes 4-Pack
A fun set of 4 different colors of polyester totes. Each comes with their own clip-on pouches. Easy to attach to your belt loop or bag, and are so pretty with artwork and Scripture. Washable, compact, convenient for groceries, errands, and more.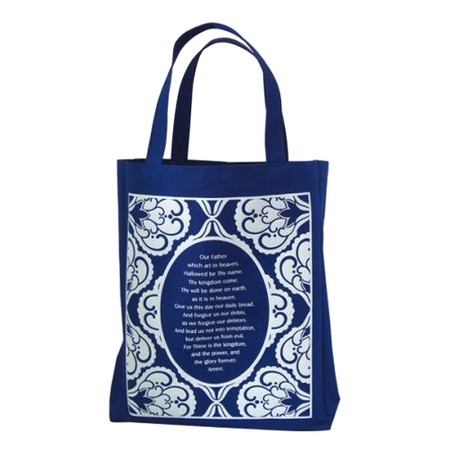 Lord's Prayer Tote
A royal blue tote with a silk screened graphic of The Lord's Prayer! "Our Father which art in heaven, Hallowed be Thy name. Thy kingdom come, Thy will be done on earth, as it is in heaven. Give us this day our daily bread. And forgive us our debts, as we forgive our debtors. And lead us not into temptation, but deliver us from evil. For thine is the kingdom, and the power, and the glory forever. Amen."

Affiliate Disclosure
Cosmetic Mom participants in affiliate programs; including the Amazon Services LLC Associates Program, Christian Book, Commission Junction, ShareASale, Zazzle and other programs. These programs give me the means to earn from paid advertising fees by supporting some of my favorite advertising and linking to amazon.com and other programs.